Whether you want to distribute an album, an EP, LP or single, they are referred to as "Releases" in your account. 
Due to the current restrictions implemented by our banking partners, credit card processors, and PayPal, we are currently unable to accept payment from people in Russia.
Our banking partners have also suspended currency conversion to UAH (Ukrainian hryvnia), RUB (Russian Ruble), and BYN (Belarusian Ruble); all of those routes will now use USD Swift Wire.
A USD account and SWIFT account number will need to be set up in your artist account in order to receive payouts. Please note: Fees in this case are much higher than other payment methods ($25 per payment) so we suggest setting a minimum payout of $45 - $65.
1) To create a new release, sign into your account here.
2) Once logged in, click "My Music". This will take you to the section where all your music is, which contains all releases that have been saved. Please note that releases are only saved after all information has been included.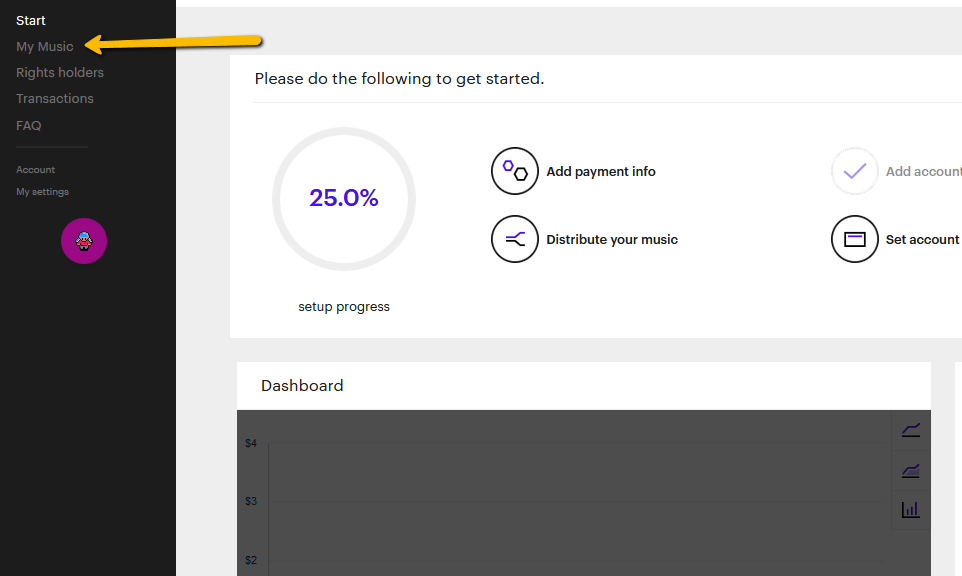 3) From your "My Music" page, click "Actions", and select "Create new release" from the drop-down list to get started.

4) This will open up "Add new release", which has 4 tabs: Main info, Track, Publishing, and Review & save.
Each tab will have to be finished before moving to the next one. Any field with a red "*" is required. The "Main info" tab holds all information at the album level.
Add a cover image by clicking the "+", or by dragging and dropping an image. Soundrop accepts Jpeg files with an RGB color space between 1400x1400 and 3000x3000 pixels.
Language refers to the language of the metadata itself - Artist name, release title, track title, etc. - and not the language of the lyrics (see step 9).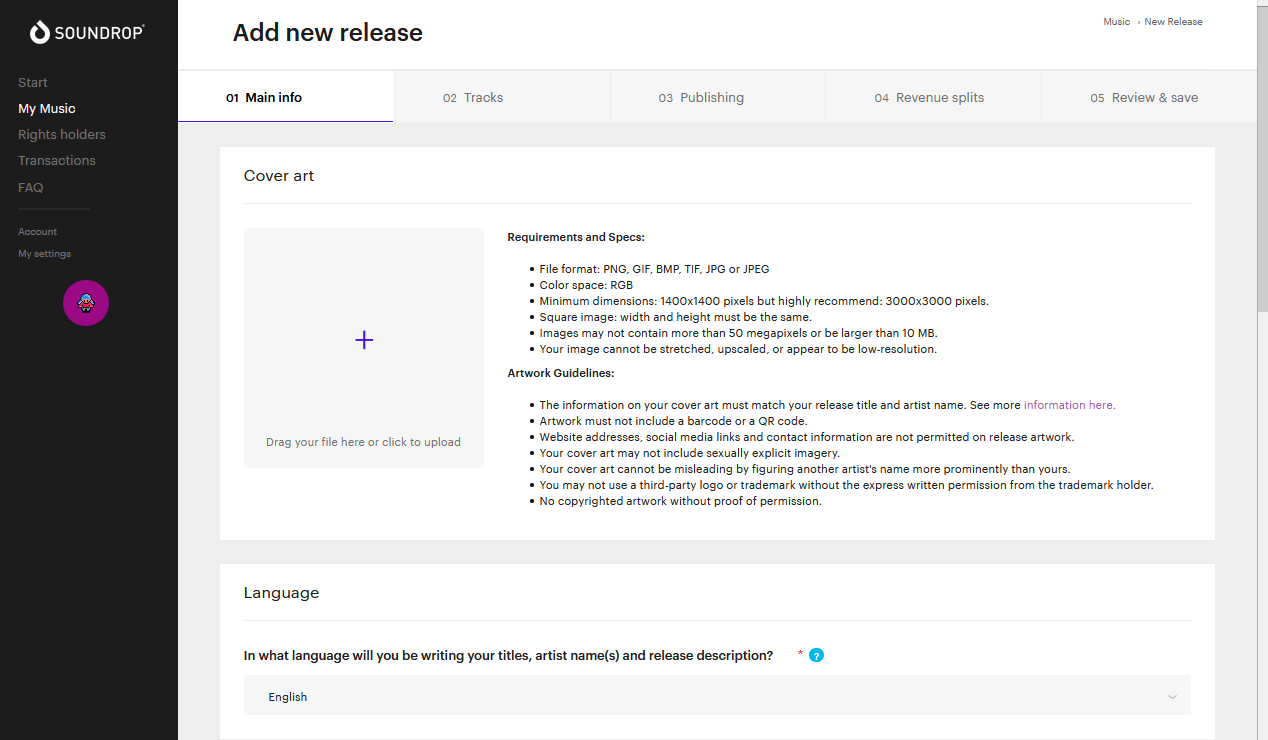 5) Soundrop offers localization for titles in other character sets (like Cyrillic, traditional and simplified Chinese, etc.). Click "Add a title in another language" if your release is also in a non-western alphabet.
6) Any release that has 4 or more primary artists is considered a compilation, and would switch over to "Various Artists".
7) Typing in an artist name that has been previously used in your account will display the name in a dropdown menu. Only add a new artist name if it hasn't been used in your account before!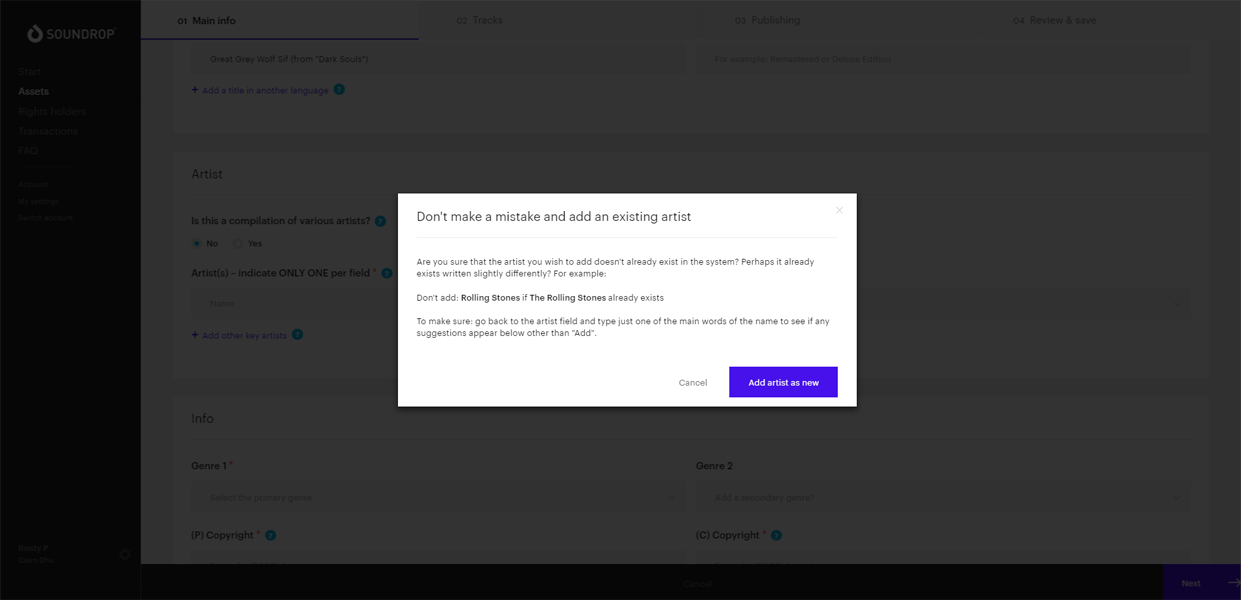 8) Add genres and publishing/copyright information for your sound recording/release. Please include the release year at the beginning of both of those fields.
If this project has previously been released, select "Yes" and include the original UPC barcode. 
If you don't have a barcode already, that's okay! Soundrop will generate one at no cost.
Once all required information has been completed, click "Next" in the bottom right corner to move to the Tracks tab.
9) In the Tracks tab, you'll put in information about each song, and upload audio.
Soundrop accepts FLAC or WAV audio files which must meet one the following specifications:
HD Audio 192 kHz 32 bits
HD Audio 192 kHz 24 bits
HD Audio 176.4 kHz 32 bits
HD Audio 176.4 kHz 24 bits
HD Audio 96 kHz 32 bits
HD Audio 96 kHz 24 bits
HD Audio 88.2 kHz 32 bits
HD Audio 88.2 kHz 24 bits
HD Audio 48 kHz 32 bits
HD Audio 48 kHz 24 bits
HD Audio 48 kHz 16 bits
HD Audio 44.1 kHz 32 bits
HD Audio 44.1 kHz 24 bits
Audio 44.1 kHz 16 bits
We will not be able to accept:
Floating point WAV files
Spatial or immersive audio files
FLAC files with embedded mjpeg streams
Stores that accept hi res audio (higher than 16 bit / 44.1 kHz) include:
Amazon
Anghami
Apple Music
Facebook/Instagram
JOOX
NetEase
Pandora
Qobuz
Resso
Tencent
Tidal
TikTok
*For all other stores, your audio files will be encoded to meet the necessary audio requirements.
Language of Lyrics is the language in which the lyrics are sung. If there are no vocals, please select "Instrumental".
10) Soundrop also supplies ISRC codes if you don't have one yet. An ISRC is a unique code for each audio file (just like a UPC barcode is a unique code for the entire release)
If there is any mature language (PG-13 or higher), select "Yes" for Explicit lyrics. This also applies to track/album names.
Lastly, we need to know whether or not the track is a cover song requiring licensing, an original work, or using a composition that's in the public domain. Click here to find out if your song qualifies for the public domain!
Click "+Upload a new track" to add another track to your release. Once you've completed adding each track, click "Next" in the bottom right corner to move on to the Publishing tab.
11) In the Publishing tab you'll see each track in the release. Click the track title to open up the publishing form.
For originals, you'll put in the songwriters and their share percentages.
For the public domain, you'll want to include the original songwriters and change the publishing to "public domain". The share percentages still need to add up to 100% but it isn't important which songwriter gets which share. If there is an original songwriter, you may use "Traditional Song" as the songwriter's name.
For cover songs, it will open the mechanical license request form.
12) For cover songs, Soundrop needs to know the name of the original composition/song and the original recording artist. If you aren't sure who did it first, we recommend searching for the song on Wikipedia, MusicBrainz, ASCAP, BMI, or SESAC. Check out our licensing request tips for more information!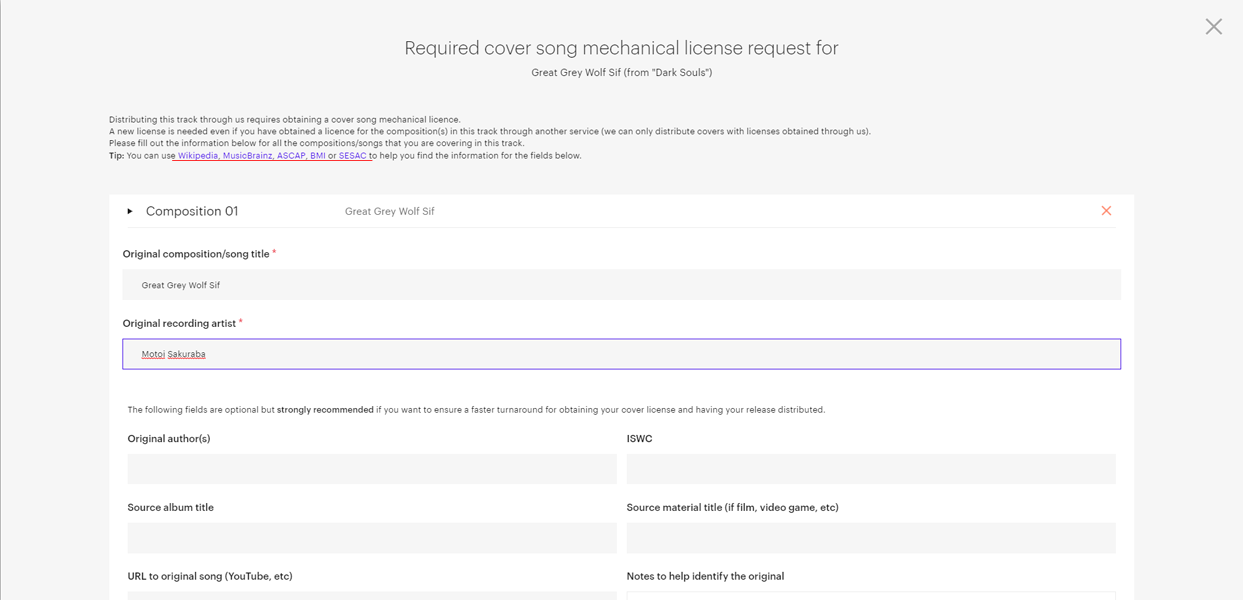 13) Once you've located and input that information, scroll down and click "Save" in the bottom right corner. This will take you back to the Publishing tab. Follow these steps for each song on the release and then click "Next" to move to the "Review & Save" tab.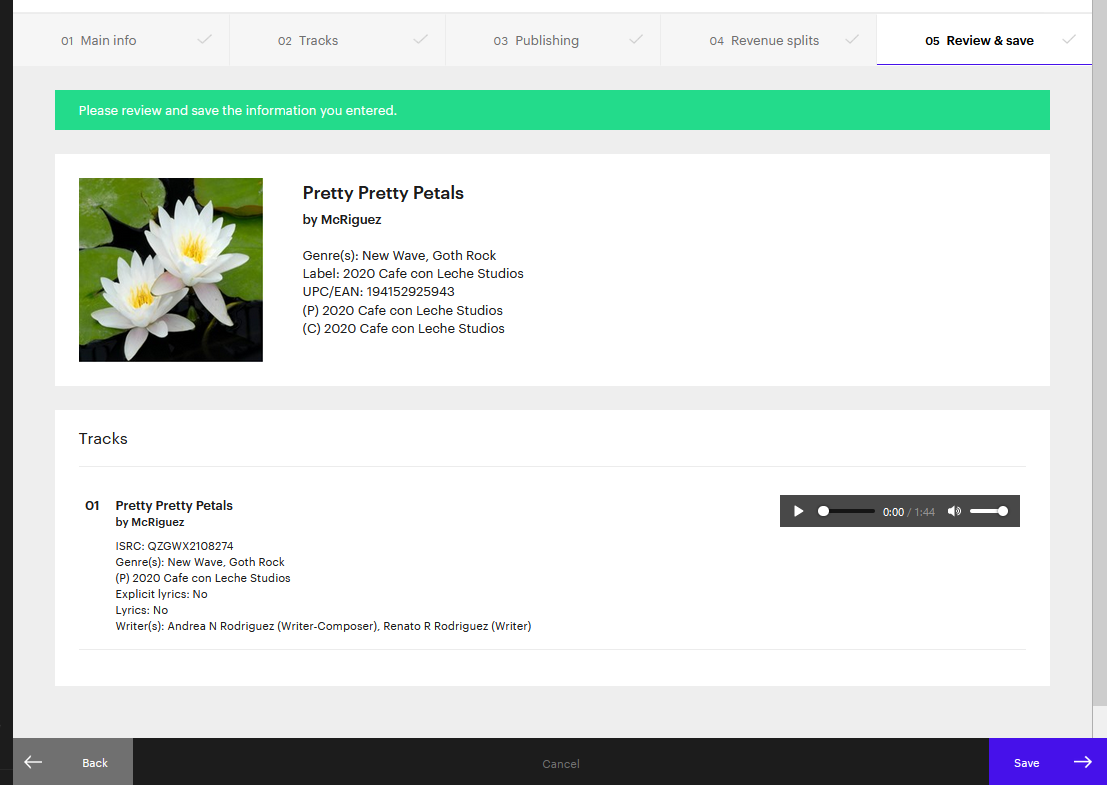 14) The "Review & save" tab shows all the information for your release. Make sure to double-check everything and if it looks correct click "Save". 
15) By clicking "Save" your release will now be displayed under your "My Music" page. To distribute and send your release to all the music stores, click "Send release to stores & services".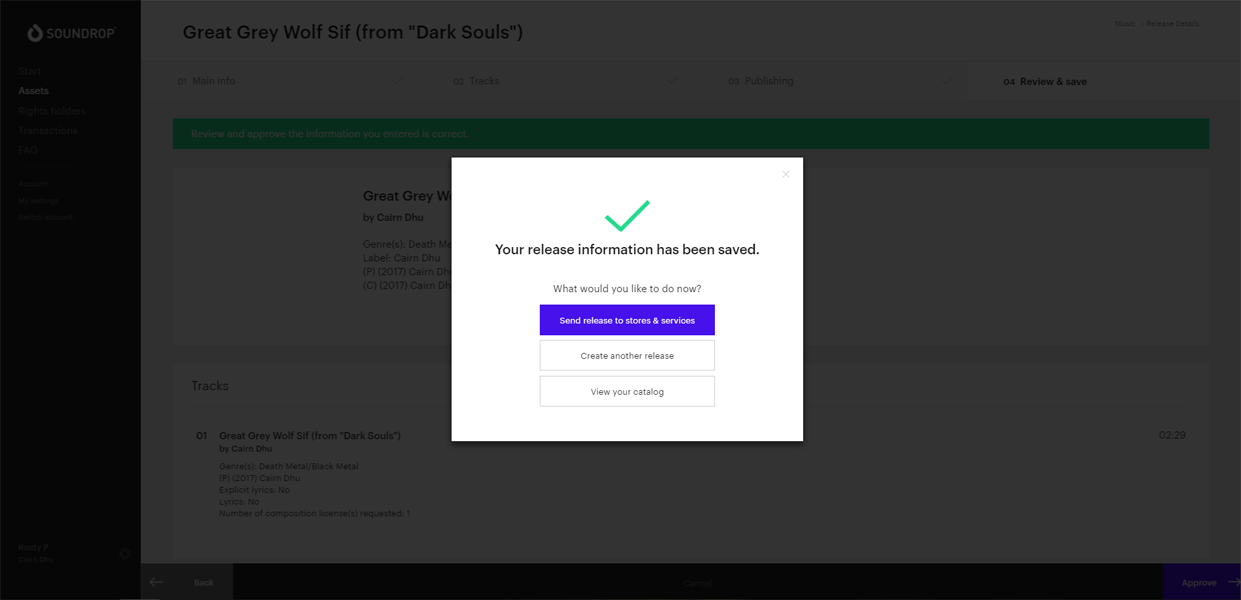 16) Click "Distribute now" to set which stores to deliver to, pricing, territory restrictions, release date, and pre-orders.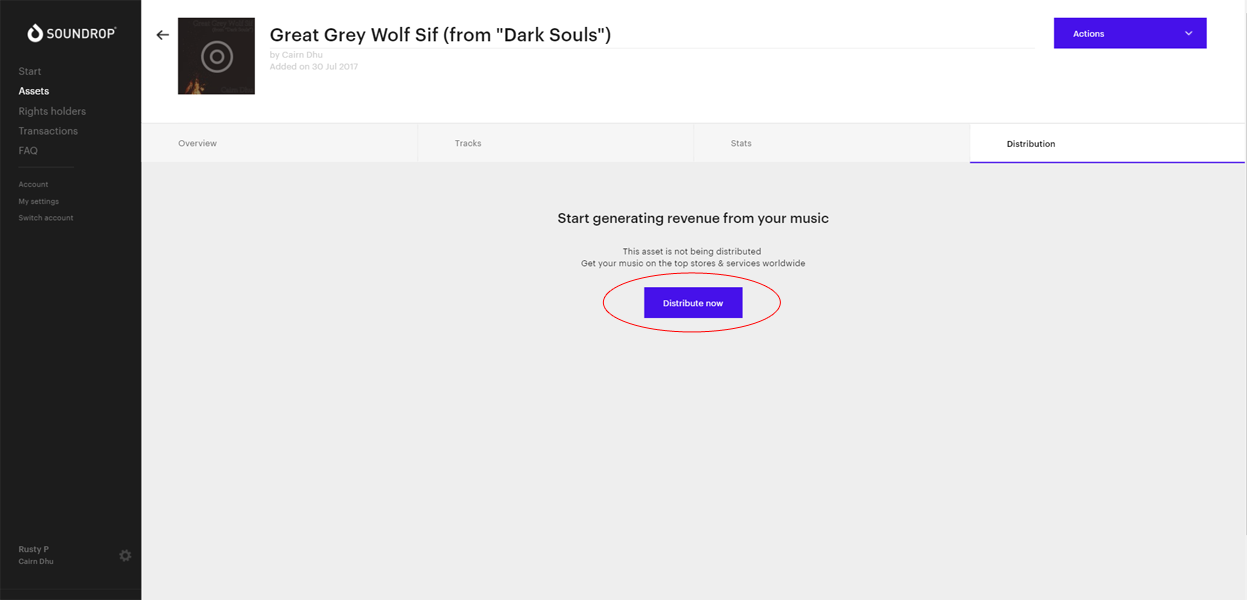 17) "As soon as possible" will set the release date to the date in which your release gets sent to stores. "On a specific date" is for future release dates. You can also exclude and limit distribution to particular territories as desired.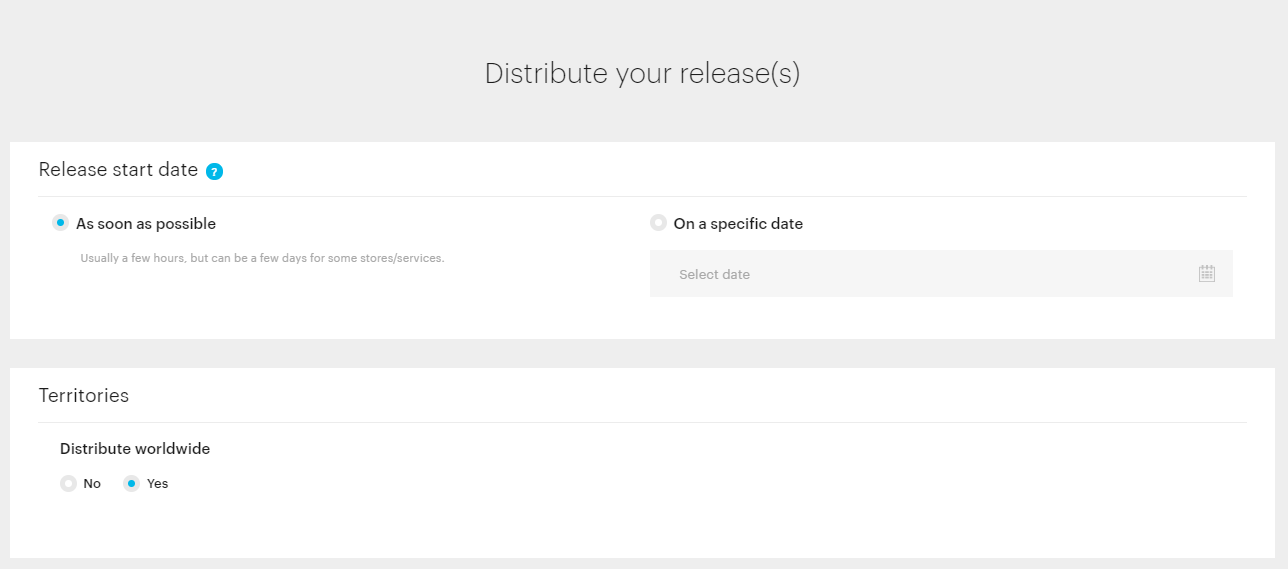 18) Under "Stores & services" you may select which stores to send to and your preferred pricing. Please note that our partners will price content on their own scales, but will match as closely to what you set as possible.
Pre-order is available for Amazon & iTunes, provided the release date is at least 1 day in the future. Considering that it takes 2-5 days for delivery to stores after licensing, Soundrop recommends setting a release date at least 4 weeks in advance to provide enough time to get your music licensed, distributed, and ingested into those stores for pre-orders.
Once you've finished setting when and where you want distribution, click "Send". If your release is only originals and/or public domain works, then you're done!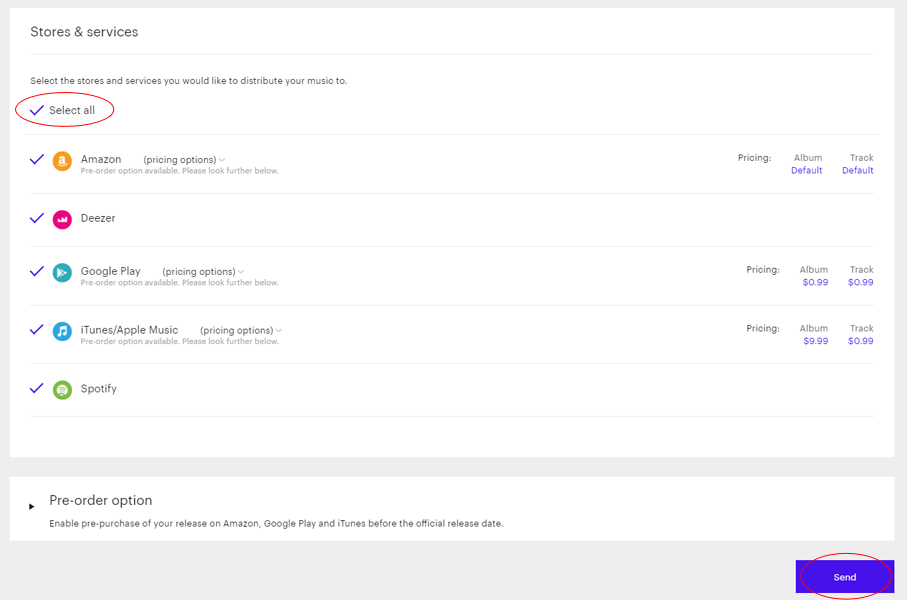 As of August 2nd there is now a processing fee of $0.99 per track for original, public domain and cover song tracks.
19) After your release has been submitted. It will be displayed in "Processing" with each store listed underneath. Our inspectors will take a look at your release to make sure that it meets the music stores' guidelines and standards. Once they approve it, it will move to "Licensing" for cover songs and then "In delivery".
Licensing can take up to 2 weeks to complete, and delivery may take 2-5 days to all partners.
Once your release is delivered, it will move to "Live".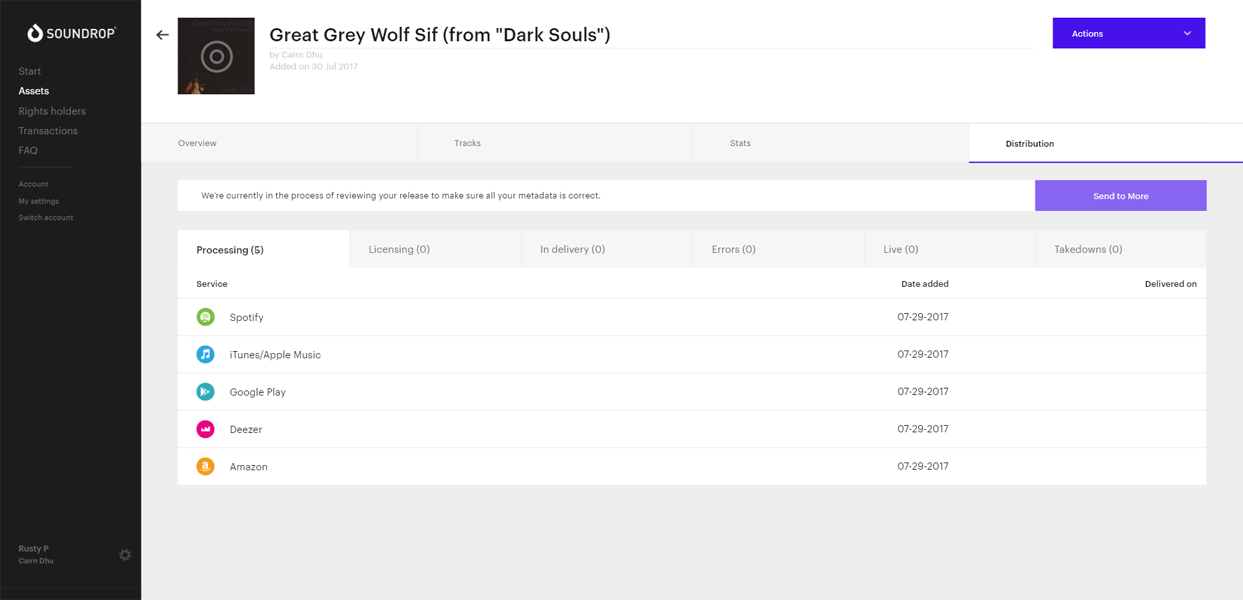 That's it! Click "My Music" to get to work on another release if you have another one ready to go.