If you want to see our payout options,  update your payment information, you haven't received a recent payment, or your TIN/FTIN has been rejected multiple times, we can help you out! If you need a reminder on when you get paid, we have a great article here.
How to Enter/Update Payment Information
We are currently unable to send payments to people in Russia, Belarus, the Donbas regions of Donetsk and Luhansk, and the regions of Zaporzhzhia and Kherson in Ukraine. We will continue to process payments to all other regions of Ukraine for as long as we are able, but there may be extreme delays.
Our banking partners have also suspended currency conversion to UAH (Ukrainian hryvnia), RUB (Russian Ruble), and BYN (Belarusian Ruble); all of those routes will now use USD Swift Wire.
A USD account and SWIFT account number will need to be set up in your artist account in order to receive payouts. Please note: Fees in this case are much higher than other payment methods ($25 per payment) so we suggest setting a minimum payout of $45 - $65.
You can easily enter and/or update your payment information in your account at any time! Here's how:
Log into your Soundrop account.
Find and click on the "Account" link in the left-side column.




At the top of the page, you will see two tabs: "Account" and "Payout Info." Click on "Payout Info" to switch to this tab.



Under the section titled "Payee Info," you will be prompted to add a new payout method. 

If you are updating, you can click on the little pencil to edit the existing payout method or add a new one. If you add multiple payout methods, we will pay the one marked with the green ACTIVE label.

On the next page, you will fill out your contact information.
On the following page, you will be able to choose your payment method.
Please make sure to update or add your payment method at least a week before the payout date.
How to add tax Information
After updating your payment information, you will be prompted to add your Tax Information under "Complete a Tax Form". 
Completing a tax form is REQUIRED in order to receive payments from Soundrop.
Simply fill out your information and you're all set! Need help with the form or finding your TIN/FTIN, click here. 
Please note: You will not be able to make changes to the W8/9 form that you submit. However, if you move or need to update your tax information, you can always re-submit a new tax form. Re-submitting a new tax form will void your previous tax form. 
Disclaimer: We cannot offer advice about your specific tax obligations. If you have questions please consult a local tax professional.
Payout Options
The minimum payment threshold (amount at which your account balance will pay out to you) is set at $20.00 by default, but you can choose a custom payment threshold (minimum $20, maximum $1000). The currency type is not currently editable. These are the following payment methods you can choose from:
Bank Transfer

Direct Deposit, ACH, IACH, EFT, EUR SEPA, or *Wire transfers

Paypal 
*SWIFT Wire transfers have high fees associated with them and require a minimum payment of $20 USD after the payment fee and applicable tax withholding has been removed. We encourage users who choose to receive SWIFT Wire transfers to set a custom payment threshold of $45 or higher.
Processing Fees
| | | | | |
| --- | --- | --- | --- | --- |
| Payment fees by location | Bank Transfer | *Bank Transfer (Wire in Local Currency) | *Bank Transfer (Wire in $USD) | PayPal |
| U.S. | $2.00 | N/A  | N/A | Free |
| Outside U.S. | $2.00 | $10 | $25 | Free |
How to update your payment threshold
It's easy! Go to the Account section, click on the "Account info" tab and scroll down to "Payout preferences". Under "Min. payout threshold" you'll be able to update the minimum threshold. Remember, it has to be between $20 and $1000 USD.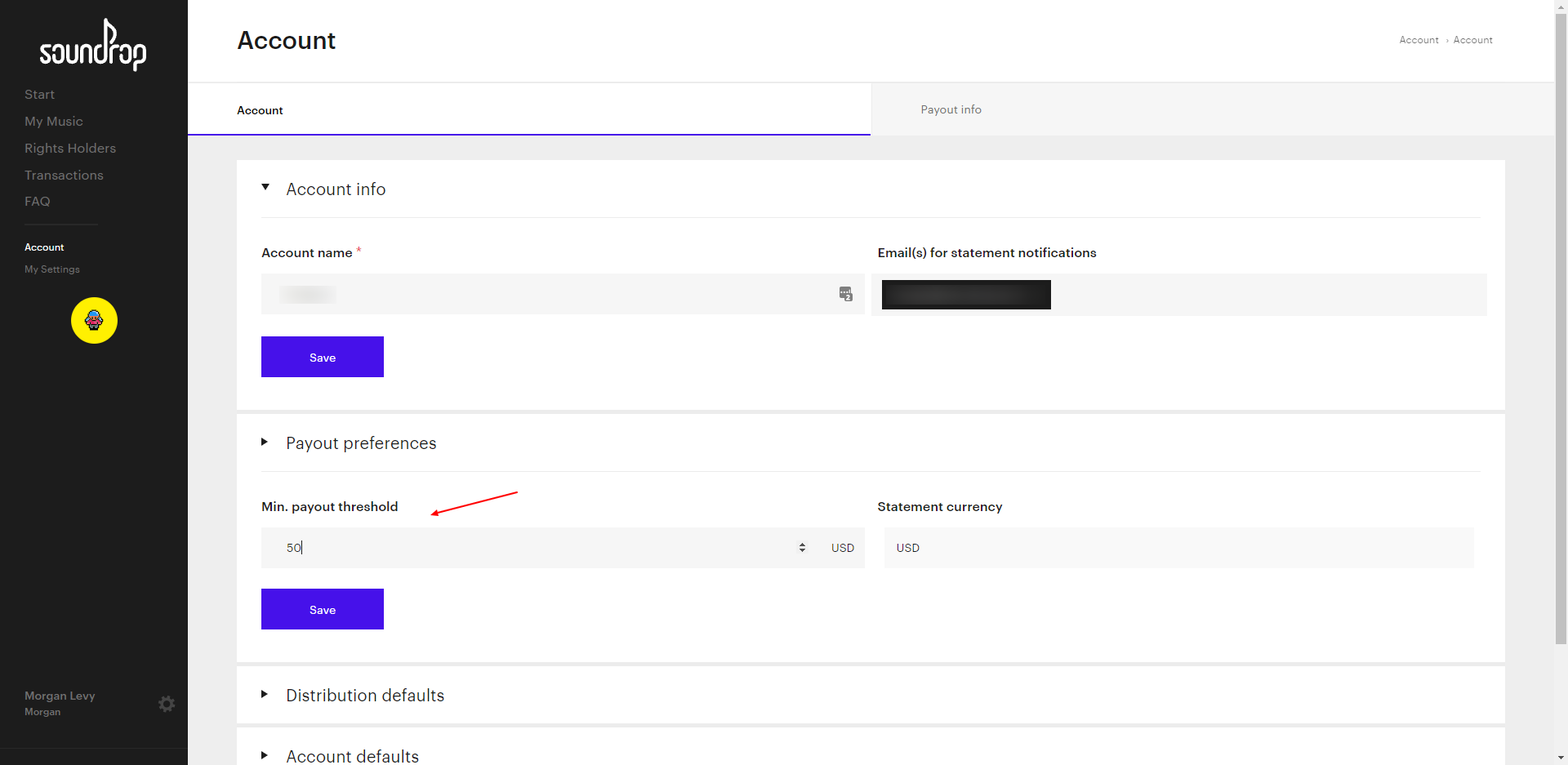 What if I didn't receive a payment that was issued to me?
First, please follow the above steps to ensure that your payment information is correct and up-to-date before your payment can be re-issued.
If your payment was issued via Paypal:
We can re-issue your Paypal payment after 30 days have passed. If 30 days have passed and you still have not received your Paypal payment, please contact Soundrop using the following form and selecting "Earnings & Tax Matters". Please specify which month's payment was not received.
If your payment was issued via Direct Deposit (ACH) 
Once Soundrop has released the payment to your financial institution, we don't have a way of canceling the transaction. If the deposit does not show up in your account, please reach out to your financial institution. We suggest you take a copy of your payment history. If for some reason the payment is rejected by the financial institution, we'll place the money back into your Soundrop account. 
My TIN/FTIN has been rejected multiple times
If your TIN/FTIN has been rejected multiple times, but you are sure you are entering a valid tax identification number, please let us know. To do so, please click the submit a request link at the top of the page, choose "Earnings & Tax Matters" from the drop-down menu, and add "TIN/FTIN Rejection" to the subject line of your ticket. Or, chat with Soundra.
To prove that this TIN/FTIN is valid, we'll need you to send us any government-issued form that contains the printed tax identification number and the legal business name for your artist entity.  Please do not add the TIN/FTIN to your support request ticket.