What Are Localizations?
Localizations are helpful for searching for content across multiple character / alphabet sets (like Cyrillic, Japanese, Hebrew). If your artist name, album title, or track titles are in a non-western alphabet, you may include a western translation (or for Hebrew - transliteration) using localizations. Your fans in Russia could search for your music in Cyrillic, while your fans in England could search in English. Pretty cool! 
Please note: When you enter a localization, our partners will honor the localization you entered relative to region. If you put your artist name as "Steamed Clams" in an English field and then add a localization for "Steamed Hams" in a French field then "Steamed Hams" will be what your music will be listed as in regions where the predominant language is French. To avoid any mix ups or misspellings, localizations should only be used for different alphabet sets.
Where Are Localization Fields Located? 
Artist name:
click "Rights Holders" in the left navigation pane and then click "artists".
click the artist name you want to add localizations to and scroll all the way down to the bottom of the page. 
click "+Add artist name localization" and add the transliterated English name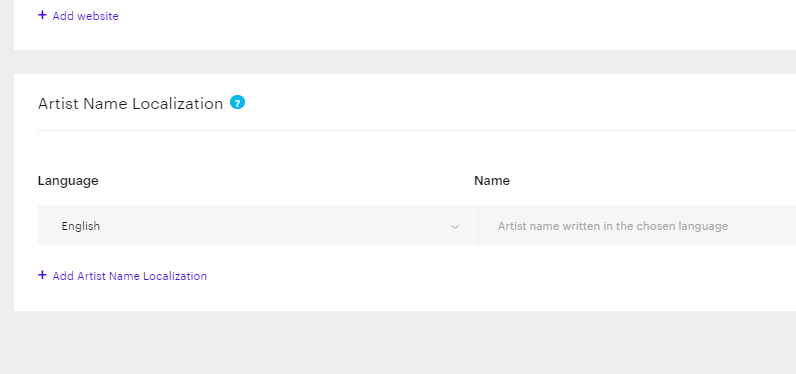 Album / Track Titles:
Localizations will be directly under where you type them in when signing up a release. Simply click "+Add a title in another language".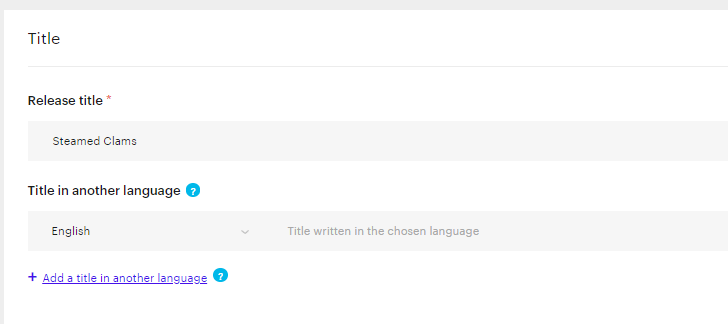 What Should I Enter in Localization Fields?
For all alphabet sets but Hebrew, you'll want to use direct translations. Please keep in mind that the main language field needs to match the language displayed on the art. For example, if your cover art has your artist name in English, but the main metadata language for your album is in Japanese characters, then you'll want to either update the art to be in Japanese, or update the metadata language to English, and add Japanese as a localization.
Hebrew Language Content
In order to make sure your Hebrew content goes up correctly, you'll need to have both Hebrew and transliteration in English across album / track titles and artist names. 
Here's an example:
Correct: Hebrew field track title: תודה; English Field Track Title: Toda
Incorrect: Hebrew field track title: תודה (Hebrew - correct); English Field Track Title: Thank You (English translation - incorrect, should be transliteration)
Incorrect: Hebrew field track title: Toda (English transliteration - incorrect, should be Hebrew); English Field Track Title: Thank You (English translation - incorrect, should be transliteration)
Chinese Language Content
Chinese language content must be submitted in both Traditional and Simplified Chinese for album titles, track names and artist names. When you select one of these options, you will be asked to fill in all fields. You may add an English language field, but this field must be added to the album title, all tracks and to the artist name field.