Call attention to your track's hook and epitomize your music!
When Soundrop distributes songs to stores and services that offer users a sample of the audio, you can choose which section of the song is made available through the Song clip start time feature located in the Advanced info section for each track. You will be able to do this for new uploads and already uploaded content.
Inputting the start time in seconds (i.e. 150 would begin the preview at 2 minutes and 30 seconds) saves your preference for which part of the song to highlight. Please make sure that the selected start time will include at least 30 seconds of the song for previewing at the delivery sites.
New uploads
When signing up a new song:
Open the advanced info drop-down from the create track page.
Below the Automated Claiming opt-in
Click on the black arrow next to Advanced info (optional)
Enter the number of seconds to start the sample in the Song clip start time section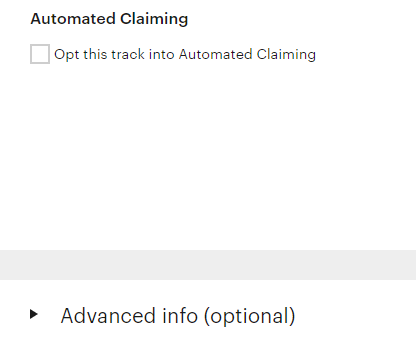 Already uploaded content
To edit the song clip start time for tracks that have already been distributed and saved to your account:
Click on "My Music" in the left-hand menu
Select the tracks tab to view all of the songs saved to your account

Click on any song to see the saved song clip start time in the advanced info section or make any edits to the Soundrop system.